Hosting
Based on many years hosting experience in our certified data centres in Denmark, you can enjoy the benefits of working with us. We take care of your IT infrastructure. Then you can take care of your business.
Based on many years hosting experience in our certified data centres in Denmark, you can enjoy the benefits of working with us. We take care of your IT infrastructure. Then you can take care of your business.
Data centre with proven high operational reliability
Netic offers hosting of servers or solutions in one of our five data centres - all located in Denmark. All data centres host data with extremely high requirements for security, reliability and availability - and we have years of hosting and operations experience working with some of Denmark's largest companies, including those in the healthcare and financial sectors.
Netic has five data centres, and they all have a well-documented high operational stability. They are tested regularly according to best-practice developed ISO procedures. We ensure compliance through full end-to-end control and visibility of the infrastructure and we operate according to our Information Security Management System, which is based on ISO27001 and 27002. External auditors conduct ISAE 3402 and ISAE 3000 (personal data) audits, which can be made available to our customers as needed.
The five datacentres are located within a convenient distance to support different disaster recovery scenarios, and all are connected by private fibre. In addition, we have a backup of all solutions in one of the data centres and there is fibre to the backup location from the other centres. The data centres are protected by two separate layers of access control, and all rooms are protected with video surveillance and burglary alarm systems connected to an external security company.
This is your guarantee of 100% uptime and data security for your systems, customer data, etc.
Sustainable hosting
In collaboration with Coromatic, Netic has built one of the Nordic region's most energy-efficient data centres, DC5 at the Port of Aalborg. We have done this due to the growing demand for green computing solutions and because today's computing requirements not only include operational and data security, but also sustainability.
The data centre has a capacity of 1MW and provides green and renewable data solutions for our customers. The centre complies with the high Tier 3 standard, which in practice means that the centre's components and redundant systems have separate supply paths for internet, power and cooling.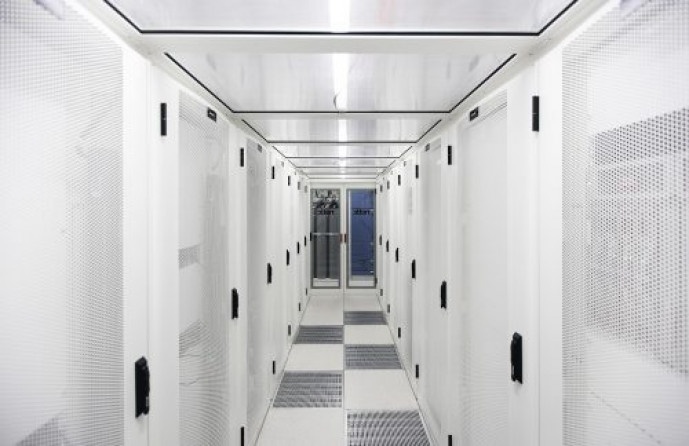 With this new technology, Netic is at the forefront of data centre requirements, including climate, environment and green transition. DC5 runs entirely on power from renewable energy sources, e.g. Danish wind turbines, which ensures the lowest possible resource consumption. For example, free cooling and energy-efficient variable EC fans are used.
When data is stored in the centre, the energy usage is only 8% more than what the IT equipment uses. This means a PUE (Power Usage Efficiency) of approx. 1.08 and very low CO2 emissions.
A fully GDPR- and Schrems II compliant setup
In the summer of 2023, the European Commission has adopted an adequacy decision on the transfer of personal data from the EU to the US (Schrems II). This has accelerated the demand for an EU compliant sovereign cloud offering that can support developers and applications in a similar way to what is provided from the hyperscalers. Our Managed Kubernettes platform-as-a-service can be utilised from our Danish datacenter and infrastructures, resulting in a fully GDPR and SCREMSII compliant setup.
Green commitments
In Netic, we use a huge amount of power in our data centres, and our customers strongly demand the option of having their IT solutions supported by green energy. Since the environment also calls for us to be considerate, it makes perfect sense for us to think in greener terms.
With this in mind, we have since 1 March 2020 committed ourselves to purchase CO2-neutral and sustainable energy from wind turbines.
Here you see the latest of our climate certificates, covering a four-year period from 1 July 2021 to 31 December 2025.